Hourglass Figure – The Perfect Figure


Scientists have found that the most attractive female figure has a waist-to-hip ratio (WHR) of 0.7. This is sometimes called the perfect figure. In one study, researchers asked male participants to rate the attractiveness of digitally altered images of the same model.1 In another study, researchers analyzed the WHR of Playboy centerfolds and Miss America winners2. In a more recent study, men's eye movements were tracked to study how men check out women; and it turns out that they pay a lot of attention to the midriff!3
Why can't men ignore the perfect waist-to-hip ratio? A 0.7 waist-to-hip ratio is associated with good health, optimal estrogen levels and high fertility; all important mating factors. Scientists believe that men evolved to favor certain body types for the sake of procreation.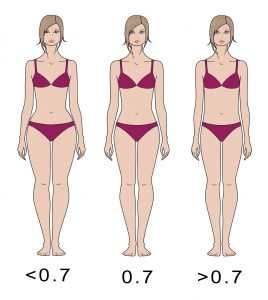 The Average Figure And How To Obtain a 0.7 Waist-to-Hip Ratio
Most women are considerably less curvy, with average waist-to-hip ratios between 0.8 and 0.85. A woman's shape is partly determined by her body mass index. Additional determinates of shape include genetic factors, such as her pelvic bone structure and how her body stores fat.
If your WHR is greater than 0.7 then your figure may benefit from increased curves. There are two strategies:
Reduce your waist measurement:
Diet and exercise may reduce the amount of fat in the waist area. For more immediate results, try wearing a waist cincher or corset. As general rule corsets can reduce the waist dimensions by about 4 inches. Elastic waist cinchers are more comfortable and reduce the waist dimension by approximately 2 inches.
Increase your hip measurement:
Consider exercises that target the muscles in the hips; the gluteus medius and minimus. For additional curves, try wearing silicone hip and butt pads.
1 Rozmus-Wrzesinska M, Pawlowski B (March 2005). "Men's ratings of female attractiveness are influenced more by changes in female waist size compared with changes in hip size". Biol Psychol. 68 (3): 299–308. PMID 15620796. doi:10.1016/j.biopsycho.2004.04.007.
2Singh, D. (1993). Adaptive significance of female physical attractiveness: Role of waist-to-hip ratio. Journal of Personality and Social Psychology, 65(2), 293–307. doi:10.1037/0022-3514.65.2.293
3 Dixson, Barnaby J.; Grimshaw, Gina M.; Linklater, Wayne L.; Dixson, Alan F. (2011-02-01). "Eye-tracking of men's preferences for waist-to-hip ratio and breast size of women". Archives of Sexual Behavior. 40 (1): 43–50. ISSN 1573-2800. PMID 19688590. doi:10.1007/s10508-009-9523-5.